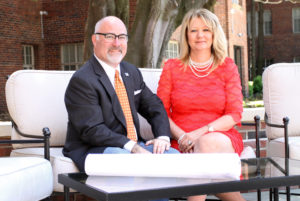 K. David Meit, Principal
Doris Gantos, Principal
Formed in early 2010, Oculus Realty ("Oculus") provides alternative and innovative real estate investment, management and advisory services to developers and owners of investment property in the Washington, DC metropolitan area. The firm's founding principal is K. David Meit, CPM®, a thirty-year veteran of multifamily property management and industry leader. Oculus is an Accredited Management Organization® (AMO®) and a licensed real estate brokerage in the District of Columbia, the State of Maryland and Commonwealth of Virginia.
In 2017 Doris Gantos joined Oculus as a principal, bringing her thirty years of experience in property management and real estate development. The company's capabilities were expanded to include a platform specifically focused on real estate development, whether as the sponsor or in an advisory role. Oculus Development & Advisory Services maintains a disciplined, yet entrepreneurial approach to real estate investment, development and management.
Oculus provides services to investors of conventional, affordable and rent-regulated multifamily communities and small retail and commercial property in the Washington, DC metropolitan area. Oculus is keenly aware and skilled in meeting the particular goals and objectives of developers, investors and long-term private owners.
Its services run the full range of the real estate life-cycle:
asset acquisition assessment & due diligence
real estate entitlement, design, construction and lease-up services
development and implementation of comprehensive management plans
investment asset management
commercial lease administration and CAM reconciliations
capital project management and consulting
property operation audits
customized training, operating manual development and special projects
real estate asset disposition oversight
The Company's guiding principal's include:
Care: To provide acknowledgement, understanding and follow-up as well as demonstrates awareness, concern and respect.
Workmanship: To present a product that reflects craftsmanship, pride and superior quality through the display of skill, accuracy and organization.
Initiative: To demonstrate assertiveness by providing ideas and solutions and taking action through dedication, understanding, forethought and performance.
Creativity: To draw upon resources and provide solutions by using original and imaginative means.
Integrity: To establish and maintain trust by demonstrating loyalty, dedication, reliability and honesty.